Pizza by the Slice
Gone are the days when we used to spend hours cooking time-consuming foods. Today, time is of essence and when hunger strikes unexpectedly, we prefer quick and easy food options that we can grab on the go in the middle of a busy day. Among all the available options, there's nothing better than a mouthwatering slice of pizza.
Join us as we uncover the secrets behind this beloved culinary phenomenon, from its tantalizing flavors and irresistible toppings to the sheer joy of grabbing a hot slice on the go. Get ready to explore the world of portable pizza perfection and discover why this delicious trend has captured the hearts (and stomachs) of food lovers everywhere.
1. Convenience on the Go
For people with busy schedules, pizza by the slice provides unparalleled convenience. The ready-to-eat slices free diners from the hassle of using plates or utensils, allowing the customers to grab their pizza and leave.
Whether you're a student racing between classes, a working person taking a lunch break, or a tourist exploring a new city, pizza by the slice offers a quick and filling meal alternative that fits in with the hectic pace of our busy lives.
2. Versatility for Every Palate
Traditional pizzerias and modern pizza shops offer a variety of toppings and flavors to suit different palates. There is something to satisfy every taste bud, including traditional pairings like pepperoni and cheese as well as more daring choices like BBQ chicken or slices loaded with vegetables.
With pizza by the slice, you can try new flavors without committing to a full pie. This helps you channel your inner foodie to try new flavors, that too on a budget!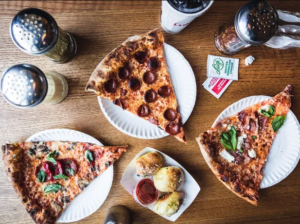 3. Affordability Without Compromise
Pizza by the slice is becoming more popular due to its price as well as convenience. Ordering a whole pizza can be costly, particularly if you have a small appetite or are eating alone.
Pizza served by the slice is a cost-effective option because you only have to pay for the amount you actually eat. Pizzerias offering pizza by the slice also frequently run specials and provide discounts, which increases their cost-effectiveness to customers looking to indulge their pizza desires without going overboard.
4. Social Interaction and Sharing
Sliced pizza encourages sharing and social contact in addition to satisfying personal appetites. Everyone can order their favored flavors without compromising on taste whether dining with friends or coworkers.
The range of choices accessible promotes interaction, sharing, and a feeling of community. Pizza by the slice makes dining out more enjoyable and interactive, whether it's for a family reunion, a team lunch, or a gathering with friends.
5. Customization and Personalization
Customization and personalization are simple when ordering pizza by the slice. You have the liberty to combine different flavors to create a unique pizza experience. You can customize your meal to suit your particular cravings and preferences by ordering pizza by the slice, regardless of whether you prefer a single topping or a variety of flavors. This degree of personalization makes each slice specifically yours and improves the overall dining experience.
6. Quick and Easy Access
Sliced pizza comes with a lot of important benefits, such as quick and easy accessibility. With pizza available by the slice, you can satisfy your needs quickly and easily without having to wait much.
Contrary to ordering a whole pizza, which requires considerable time for baking and delivery, pizza by the slice is quickly accessible. A slice of pizza is easier to find whenever and wherever you want it, whether it's from your local pizzeria, a food truck, or a grocery store.
Due to its accessibility, it serves as a dependable and practical choice when hunger strikes and you need a quick and delectable meal.
Endnote
We can agree that pizza by the slice has evolved as a handy, adaptable, and cost-effective way to indulge in your favorite cuisine.
Its convenience for grab-and-go eating makes it a great option for people who lead hectic lives, and the variety of flavors ensures there's something for everyone. So, next time you're in a hurry and need a quick bite, simply grab pizza by the slices!